Do I Need A Permit For My Storage Building? And Other Frequently Asked Questions







Frequently Asked Questions:


How much is a backyard shed?
Our backyard sheds Oklahoma base prices range anywhere from $2100 for an 8x12' shed small enough to fit in a typical suburban backyard to $12,000+ for a 14x42' to fit in bigger lot sizes.
We offer many custom options such as Electric packages, floor insulation, windows and door sizes that may affect your final price. Please contact one of our storage building lots near you to get the exact price for what you need.
How much are storage buildings?
The price of our portable storage buildings will greatly depend on the size you need. If you have a small backyard and need something for your gardening equipment storage or additional space for sports kits, your price will start at about $2100 for an 8x12.
If you need a large detached garage or portable office building then that price will also vary. The best way to give you an estimate it for you to call or visit one of our lots to pick the right storage building for your needs and get the correct quote.
How much does it cost to build a 12x20 shed?
The prices of our 12x20 sheds range from $4,700+ depending on the options you pick. We have custom choices such as windows and/or door sizes to pick from that will affect your final price for your shed.
Do I Need A Permit For My Storage Building?
The answer to this question will depend greatly on your address. If you live in the country outside of any city limits and have no HOA, you may very well not need a permit.
Oklahoma cities all have different requirements. For example, Oklahoma city may and may not require a permit for a storage building. The city recommends calling their Oklahoma City Plan Review at 405-297-2525 to get a straight answer.
If you live in Norman, Ok, here is a quote from the city's site about permits.
"In general, all storage buildings (accessory buildings) over 108 square feet require a building permit. If the accessory building has a permanent foundation, however, a permit is required regardless of size. A foundation is not required for an accessory building less than 400 square feet that is not heated for habitable space. If a permit is not required, the property owner is still responsible for locating the accessory building within the minimum zoning setbacks and that its height does not exceed the height of the main dwelling unit."
Please make sure to routinely check their site or better yet call the Norman City Permit Staff at 405-366-5339 as this information can change at any time.
For the city of Edmond, OK their answer to storage building permits is as follows:
"When is a building permit required?
Anytime you are adding to or removing the structural framework of a building due to remodeling, a fire restoration or similar situations, it will require you to purchase a building permit. If you are building or purchasing a detached structure to be located on your property for a garage, barn or storage purposes and it exceeds 200 square feet, you are required to purchase a building permit."
Their website is linked here. Please make sure to check this often as well as this information can and will change at any time.
Of course, the neighborhood you live in may also have its own set of rules HOA rules. Please be sure to check in with them to get updated rules.
DO I NEED GOOD CREDIT TO BUY STORAGE BUILDING?
No. We do not run a credit check. We have rent to own options for our pre-built sheds and portable buildings, as well as full purchase.
DO I NEED TO MAKE A DOWN PAYMENT?
No down payment is required for storage buildings. However, down payments are required for all other products. Please consult the product catalog for specifics.
All you need is your first month's lease and $50 processing fee and you are ready to have your portable building delivered for free.
CAN YOUR PRODUCTS BE CUSTOMIZED?
Yes. All our prebuilt buildings are customizable. We have prebuilt sheds that can be used for a man cave, garages, office or workshops. You have the option to customize any of our buildings by choosing the size, windows doors, etc.
DO YOUR PRODUCTS COME WITH A WARRANTY?
Yes. All the products we offer come with a warranty. Please consult the product catalog for specific warranty information.
WHAT IF A STORAGE BUILDING OR SWING SET WILL NOT FIT THROUGH MY GATE?
Swing sets can be built on-site with installation, but currently, we do not offer build-on-site for storage buildings, greenhouses or chicken coops.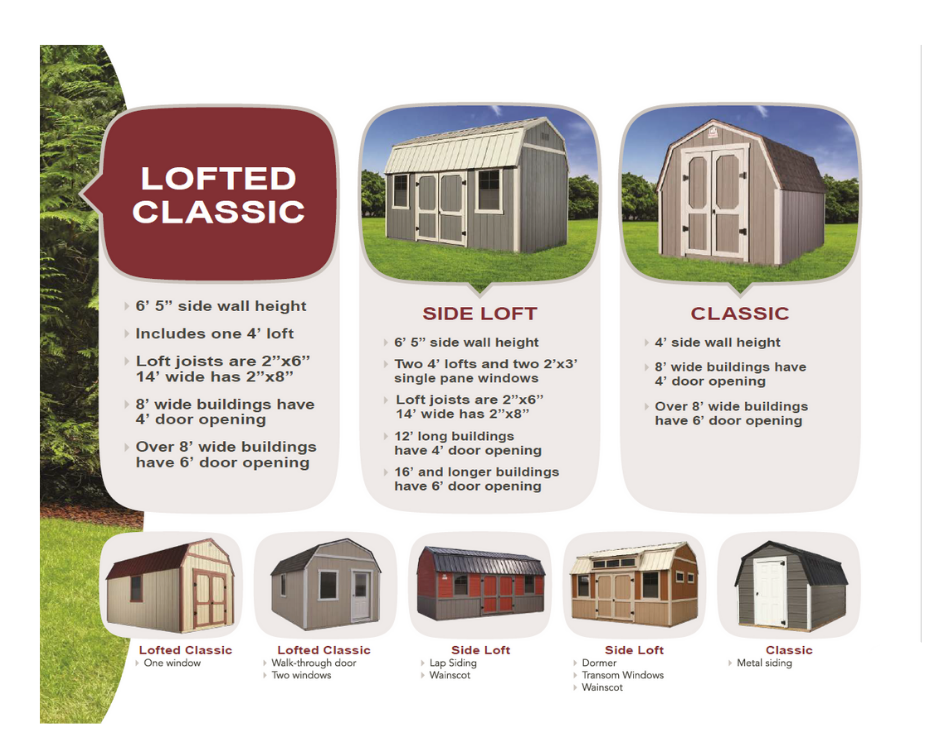 CAN I GET REPLACEMENT PARTS FOR MY BUILDING, EVEN IF IT IS OUT OF WARRANTY?
Yes. We're so glad to hear that your building outlived its hardware. To request replacements, submit a parts request and we will do our best to accommodate the request.
HOW DO I HAVE MY BUILDING MOVED?
You can contact us at 866-626-4165 to request a moving estimate.